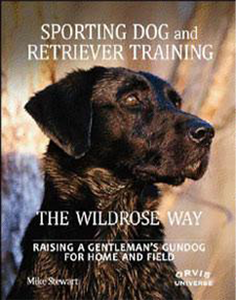 The Wildrose Way, Sporting Dog and Retriever Training - Book
Regular price
Sale price
$ 50.00
---
SPORTING DOG AND RETRIEVER TRAINING THE WILDROSE WAY:
Raising a Gentleman's Gundog for Home and Field
Kindle/eBook now available through Amazon!

Foreword by John Newman, President of Ducks Unlimited, Inc.

Universe Publishing /ISBN: 978-0-7893-2446-7 / $45.00 / September 2012

Hardcover / 256 pages / 200 color photographs / 8.5 x 1

Created by Mike Stewart of Wildrose Kennels, the Wildrose Way is a unique, low-force, positive training method that is field-proven for upland and waterfowl gundogs. The training prepares dogs for versatility any game, any terrain, any destination and makes them desirable companions for any situation. Now, for the first time, Stewart's methods are compiled in one indispensable reference book, SPORTING DOG AND RETRIEVER TRAINING THE WILDROSE WAY, which is fully illustrated with photographs and diagrams. Containing chapters on establishing essential behaviors, the core skills of the hunting retriever, and waterdog finishing work, as well as sidebars on such topics as breed selection and effective canine leadership, this step-by-step book is designed specifically for wingshooters who want to transform their pup into a Gentleman's Gundog.



ABOUT THE AUTHOR / CONTRIBUTORS: Mike Stewart is president of Wildrose Kennels and has more than thirty years of experience training a variety of sporting dogs. His unique, positive training method is recognized and celebrated by sportsmen across the country. Paul Fersen has been with The Orvis Company for almost two decades and is now a senior writer. He has been published in Gray's Sporting Journal and American Angler and has written several books. John Newman is president of Ducks Unlimited, the world's largest nonprofit organization dedicated to conserving waterfowl habitats.


Reviews and Comments
Shooting Sportsman - Review

Ducks Unlimited Magazine's Waterfowler's Bookshelf reviews The Wildrose Way stating, one of the most exciting training manuals to be released in years this easy to read, practical book tells you everything you need to know from socializing young pups to producing a finished gundog worthy of the field.
Ducks Unlimited Magazine's Waterfowler's Bookshelf

Mike Stewart of Wildrose Kennels has teamed up with Orvis's Paul Fersen to produce a valuable gun dog training book, Sporting Dog and Retriever Training: The Wildrose Way (Orvis/Universe, Hardbound, $45). Stewart distills 30 years of dog training experience into a complete course in selecting, starting, field training, and finishing what Wildrose calls a gentleman's dog a biddable, companionable, successful bird dog or retriever. Stewart and Fersen provide a detailed training regime perfectly suited to canine instincts and capabilities as they relate to the hunter's needs afield. Stewart is particularly insightful on communication, learning (and mis-learning) habits, and canine memory. Three early chapters Train Yourself to Train Your Dog, Starting Your Pup the Wildrose Way, and Foundational Excellence are must reading for any gun dog owner who wants to encourage good habits and avoid irremediable mistakes. The two chapters on field training are invaluable. This excellent manual brings fully to light the concepts and techniques of Wildrose training.
Gray's Sporting Journal

Your new book is just awesome. You guys nailed it. Congrats.
David DiBenedetto, Editor
Garden & Gun

We received a copy here at The Retriever Journal. What an impressive book. Chip does a lot of our photography, so we were interested in that as well. Again, a beautiful piece. Congratulations.
Steve Smith, Publications Director
Retriever Journal 
---